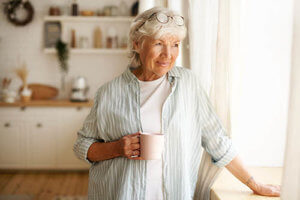 If you are looking into a senior living community, the amenities it offers are likely to be an important consideration. A comfortable, stylish living space, opportunities to socialize with neighbors, and all-day dining options might be high on your wishlist. At Hidden Meadows On The Ridge, we offer a resident-centered, family-focused senior living experience. Through a wide variety of amenities, you'll never be bored. We provide comfort and convenience at every turn.Weekly housekeeping, maintenance, and concierge services let you enjoy doing the things you love, and our activities director ensures that every day is exciting.
For more information about our senior living amenities, reach out to our team at 267.406.6161.
Our Homestyle Senior Living Community Amenities
At our personal care and memory care community residents enjoy exceptional amenities and lifestyle programs. In this space, residents can socialize and relax in style.
You can be sure that there is always something going on in our community. Whether you are in the mood to socialize with friends, enjoy a gourmet meal with tableside service, attend themed parties, or get pampered in the salon, there's always something for you to do. It's also the best place for leading a healthy and active lifestyle with a dedicated team of health professionals onsite to assist with wellness in all aspects.
We offer all of the following senior living community amenities:
Two secured courtyards, one featuring a therapy garden
Beautiful bird aviary
Large community and activities room
Ice cream parlor
Outdoor walking paths
Beauty salon
150-gallon fish tank
Private party dining room where you can enjoy chef-prepared meals
Through our host of senior living amenities, you'll enjoy a carefree lifestyle at Hidden Meadows On The Ridge.
To learn more and find out about our senior living options, contact our team at 267.406.6161.
Familiar, Comfortable Senior Living Residences
Though you'll spend plenty of time taking advantage of our senior living community amenities, you can also relax in the privacy of your suite. Our senior living residences can be customized to your unique needs and decor style. The following features provide comfort and convenience:
10 private and/or companion suites with full baths
Comfortable sitting area and kitchenette
24-hour dementia trained staff
On-site rehab therapy
Life enrichment programming
Wheelchair accessible transportation
Pet-friendly
Comprehensive on-site medical services
Expressions Concierge is also available to help with anything else you need. Whether you need help with your move, assistance with mailing packages or making appointments, or transportation, simply speak to someone at the concierge desk.
And at Hidden Meadows, you don't need to worry about housekeeping and maintenance. Our team of housekeepers will make sure that your home is spotless so that you can enjoy our senior living community amenities. If taking care of household chores has kept you back from doing what you love, reach out to our senior living consultants today.
Contact Hidden Meadows On The Ridge Today
In our senior living community, you can relax and enjoy our amenities with peace of mind. Whether you're a senior looking for assistance with daily living activities like housekeeping or medication management or you are looking for our SHINE® Memory Care program for a loved one, we can help. Through personalized care in a cozy environment, you'll love living at Hidden Meadows On The Ridge. Our team members are ready to show you around our community, answer your questions, and tell you more about apartment availability. Contact us today at 267.406.6161 to schedule a tour and learn more.